This is no ordinary geocaching trading item!
Eyes of the World is a Travel Bug, traveling from Geocache to Geocache on a very specific mission.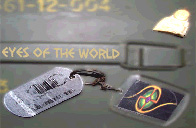 If you do not intend to log your visit onto the geocaching.com web site, please DO NOT TAKE THIS ITEM. Its travels and progress require you to log that it is being taken from this geocache. You will also need to log when you place it in another geocache. It's easy!
If you are willing to log your part of the journey of this bug and place it another geocache as soon as possible (after you log your find), grab it from this geocache and read the instructions on the reverse side.
My current goal is to: travel to the Fillmore, San Francisco
Current GOAL:
"Eyes of the World" likes to take a long, strange trip all over the world and visit as many music lovers as possible. His end goal is to find a good resting place at the Fillmore in San Francisco so this bug can enjoy that good lovin'music for the rest of it's days...
******

Instructions for Logging this
Travel Bug: Eyes of the World

1. You must be registered at www.geocaching com.
2. Login to the geocaching website with your Login Name.
3. Click the "TrackTravel Bugs" link on the left.
4. On the right-hand side of the screen, place the tracking number in the data field (like the image on the left of this card) and click the arrow. This will take you to the website for the individual Travel Bug.
5. Click Found it? Log it! in the upper right hand corner of the page.
6. Fill out the form. Make sure you write down the six digit tracking number for your own reference.
7. Be sure read this Travel Bug's mission and figure out exactly which geocache you'll place it in.
8. Go out in the real world and physically place the character in the geocache of your choice (hopefully one that will help it fulfill its mission).
9. Go back to the geocaching.com website, and log your find on the cache page. When you're filling out the form, at the bottom there will be a drop-down asking if you've dropped off a Travel Bug. Choose Eyes of the World and Log Your Find.
10. Upload pictures to any of your entries on its Travel Bug Page.
11. Have FUN!!!

http://www.geocaching.com/track/details.aspx?id=46848